"He will once again fill your mouth with laughter and your lips with shouts of joy." – Job 8:21 NLT
It's Day 374 of the Pink Collar Savvy & Chic on Purpose Project and a case of "Caught Raccoon Handed!" has kept me laughing for almost twenty-four hours. Remember that commercial where the woman is standing on her back patio calling "Here kitty!"? A huge raccoon meanders into her bedroom and she says, "Good girl. Come snuggles with mama." Then the voice over asks, "Missing something?" and goes on to advertise for eyeglasses. The brilliant ad always gets a laugh from me, and I was tickled pink last night when we had a raccoon visitor and experienced our own version of it.
I walked into the kitchen and my husband pointed to the back deck and told me, "Skylar is eating french fries." I looked and  saw a huge raccoon –– not our cat –– sitting right beneath the outdoor light going through the garbage –– including an empty Frisch's fry container I'd placed in the small metal trash can I keep there for when I work –– and dine alfresco. "That's not Skylar!" I laughed. "That's a raccoon!" He went out and shooed her away while chastising me for leaving garbage out. "I didn't leave it out! It was in a can with a lid on it," I defended myself.  "They have hands!" he explained and went on to tell me how they use them to open all all manner of things. I couldn't stop laughing then and I'm still laughing now. She was caught raccoon handed!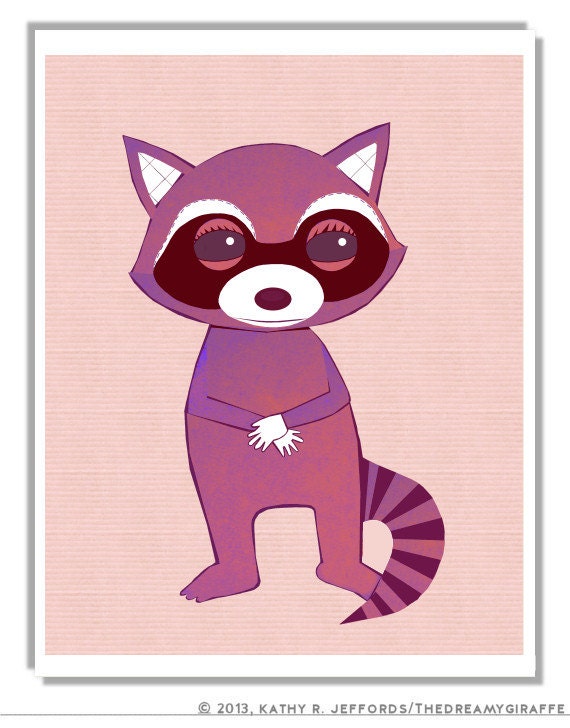 This isn't the first time a raccoon has been mistaken for our kitty who was supposed to be an indoor cat but has always had other ideas. Once while doing homework on the deck, I felt the presence of an animal and reached over to pet what I thought was Skylar. Instead, it was a raccoon. And my husband didn't have to tell em about raccoons having hands and using them like humans. I found this out for myself while on a woman's retreat at Heuston Woods, one of our state parks. All of the women had brought yummy treats and we left our hotel room doors open so we could visit each and help ourselves. Well, when my roommate and I got back to ours, a huge raccoon sat with a piece of rye bread in her hand. If that wasn't bad enough, we weren't on the ground floor. How did she get up there???
As a Pink Collar Savvy & Chic on Purpose Swan, I had an important meeting this morning and didn't get much else done work wise. But before I headed out, I read my devotional entitled, "Life of Laughter". It talked about God restoring our laughter and joy. (Job 8:21) If we're not careful about minimizing our barriers and maximizing beauty and our best lives, we can lose both. And to be completely honest, I'm facing some barriers. I call them Ds. Dysfunctional relationships are the particular D plaguing me right now. It would be so easy to let the stress and worry about the situation steal my joy and reduce me to tears. Instead, the Lord saw fit to not only speak to me through His Word to remind me about living a life of laughter, He gave me a reason to laugh by letting me witness a raccoon being caught red handed!
Are you Pink Collar Savvy & Chic on Purpose about living a life of laughter? When is the last time you delighted in something hilarious? No matter what you're facing, God still wants to restore your joy.
It's Day 365 of the Pink Collar Savvy & Chic on Purpose Project and six years of presenting with Kay Fittes of High Heeled Success has taught us that the speakers who laugh together learn together. Yesterday, June 9th, marked six years of partnering to present  workshops for women. And I have to say, Number 25 went a whole lot better than Number 1! Though I wasn't a speaking novice back then, my experience presenting at church and religious events, at Christian schools and conferences, some women's events, and in the Early Childhood field meant I was a newbie speaking in front of professional women from other sectors. Kay and I met wrote and went over our "Equilibrium in High Heels" workshop on work-life balance nearly verbatim. We practiced transitions back and forth between the two of us and figured our high level of preparation would ensure the day would run like a well-oiled machine. Train wreck is more like it! Following an exhausting evening of set up where we blew up helium balloons for our closing segment – all while my then eight and seven-year-olds wreaked havoc – we arrived to find all the balloons on the floor. They weren't the only things that fell flat. My segment on creating a balanced life vision went over well. Too well. We couldn't get the participants to stop working on them for the rest of the workshop! And our practiced volleying of the content back and forth came off more like an intense tennis match! Furthermore, I became so overcome with emotion about having my dream of working with my mentor come true that I couldn't keep my tears in check. I wasn't the only one. One woman's life was so out of control she cried for the duration. Finally, after hours of packing up, I high-fived Kay and congratulated us with, "Petite Power!". She echoed the phrase but not my enthusiasm. In fact, it took her weeks to come clean about how she really felt the day went. OUCH! Looking back, we can see the humor. Then, not so much. Good thing we persisted and now know the speakers who laugh together learn together!
Thankfully that first workshop wasn't our last. We regrouped and other than challenges with too much content and too much time, each workshop went from strength to strength.  We learned how to play to my strengths – storytelling, the surprise element of song and some facilitation- and to let Kay cover the bulk of the content with her own compelling stories woven throughout. And because we are alike in so many ways, including birthdays within a week and have come to be friends who care deeply about one another, we have a natural synergy and amazing energy, too.  Add in a bit of comedic relief and some spontaneous hilarity and we've found a winning formula that our participants love. Based on the consistently positive feedback we receive from our audiences, after a rough start, we definitely found our sweet spot.
As a Pink Collar Savvy & Chic on Purpose speaker, days like yesterday are the end all, be all. We had three of our original participants in the audience – they're repeat attenders and often are – and with their consensus the workshop was unanimously deemed "Best Ever"! The two of us have had quite the journey with it's ups and downs, highs, lows and and an emotionally charged debut "Overcoming the Fear Factor" workshop that resulted in a room flooded with as many tears as that first session. Good ones with not a dry eye left by close. Good thing one of the things we've learned as speakers is to laugh together, too.
Be savvy & chic,
~Pink Collar Coach